Roman town, pub lunch and stained Glass, 2014
A day in and near Caistor St Edmund
Ann Meakin
An ambitious programme for our first all day car-sharing trip! Ann Meakin, MLHG President, had drawn the short straw and found herself in charge on a gloriously wet August morning. Peering into steamed-up cars, hoping that everyone expected was really there, she crossed her fingers and set the convoy on its way. In the end, they had a good day. This is what she wrote:
This month, as an experiment, we had our first all day outing in members' cars. Leaving Martham Green in pouring rain we set off to visit the site of the Roman Town known as Venta Icenorum at Caistor St Edmund near Norwich, where the rain had cleared and the rest of the day was fine.

Roger Bellinger of the Norfolk and Norwich Archaeological Society guided us round the ancient walls and explained how this Roman town had come into being and thrived until after the Romans left England. It was then abandoned. The Saxon settlers preferred the site of the present city of Norwich. Why was that? Nobody is sure! Archaeological digs in recent years have revealed what a well-planned town it was, with even its own piped water supply and huge defensive walls. Now sheep graze in tranquillity until the next group of archaeologists arrive.

After a good lunch at The Worlds End at Mulbarton, we had a most interesting guided tour of Mulbarton by the local historian Jill Wright. Mulbarton is a village that has much in common with Martham. Like Martham its ancient and beautiful village green has survived. It is even larger than ours – but they call it The Common. The church contains some surprises! We admired the stained glass windows which were removed from Martham Church 200 years ago, showing Adam and Eve in the Garden of Eden with Adam 'delving', while Eve 'spinning' remains in Martham Church.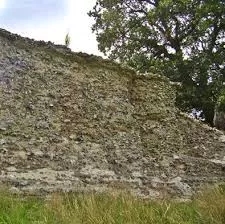 (Above: Roman walls)
(Below: Mulbarton pond and church)